Searching for Teaching Resources and Information about Wabash Center Programs
The entire website is searchable from the search window displayed in the banner masthead at the top of every page.
Type in search terms and select a "Content Type"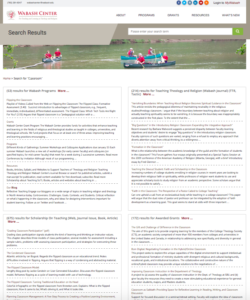 Wabash Programs – includes all the pages that describe the various activities, projects, and programs sponsored by the Wabash Center.
The rest of the "Content Types" display a library of resources to support teachers. .
Awarded Grants (including the abstract, the date, school and project director)
Teaching Theology and Religion (TTR, the Wabash Center's peer-reviewed journal)
Scholarship on Teaching
Syllabi
Book Reviews
Videos
Blog
Websites on Religion is now available on the ATLA website
Search "All Content Types" to display the General Results List
Click on the title of the record
Click on the Content Type's label to see the full List of Search Results for that content type.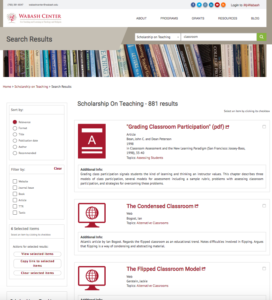 List of search results for each Content Type
Click on the title to see full text (when available)
Click on "more" or "details" to see full text of blogs and book reviews, and table of contents of books in our collection (we are a non-circulating library).
Click on a topic or tag to see more records with that topic or tag.
Checkbox to Select Resource Records
Click the checkbox in the upper right hand corner of the resource record to select it and store it for future viewing
The "Selected Items" control box allows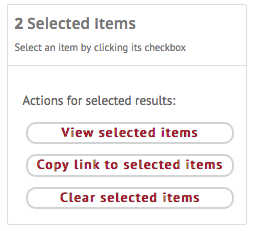 "View Selected Items" – provides a permanent url for the resource records selected
"Copy Link to Selected Items" – copies the url to your browser's clipboard
"Clear Selected Items" – unchecks all boxes.
Filter and Sort Panel
Options to "Sort by" and "Filter by" vary by Content Type.
Modify your search terms in the search window displayed int he banner masthead at the top of the page.
Search Term Strategies
Search finds the exact word or phrase typed into the search box.
Search also finds similar terms or phrases (ranking them lower in priority)
There is no truncation or Boolean search capabilities.
Priority of Search Fields
title
abstract and table of contents
topic or tag or blog category
text of book review or blog
author or project director or book review author
publisher