The Wabash Center hosts workshops for teachers of theological and religious studies in higher education in an accredited seminary or theological school in the United States, Puerto Rico, or Canada.
Honorarium
Participants in Wabash Center workshops receive an honorarium based on the number of days and amount of advance preparation and responsibility.
Policy on Deadlines for Program Deadlines
The program deadlines are meant to facilitate application by a wide array of participants, as well as create fairness in the selection process. Program deadlines also assist administrative staff who work to support each group and all programs.  The Wabash Center will, when we see the necessity, extend the deadline of an application process.  We will rarely, if ever, extend the deadline for individual requests.  We ask participants, as well as recommenders, to respect these important deadline boundaries.  Adherence to deadlines foster fair-mindedness and a spirit of collegiality. Should an issue need to be arbitrated, please be in touch with the Director of the Wabash Center.

Breaking the Academic Mold: Liberating the Powerful, Personal Voice Inside You
Many scholars yearn to speak to a broader audience through creative nonfiction, blogs, op-eds, and memoir. Many scholars want to write with more clarity and imagination. Participants in this workshop will develop their writing voice in service to topics they care about, and for which they have passion and curiosity. 

Participants in the Early Career Teaching Workshops are eligible to apply for a Fellowship for individually designed teaching projects that extend the learning of the workshop.
2020-21 Summer Workshop Fellowship Grant
2021-22 Digital Workshop Fellowship Grant
2022 Hybrid Workshop Fellowship Grant

The Wabash Center is funded on 3-year grant cycles. Based on past history we can anticipate certain patterns in our programming going forward.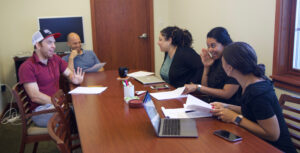 See a complete list of Wabash workshops, colloquies, and conferences with a group photo and list of participants.